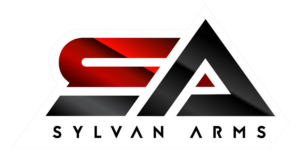 Folding Stock Adapter Giveaway!
Win a folding stock adapter from Sylvan Arms!
Let's face it…. Not every man is sufficiently blessed to have found himself in a situation where it simply wouldn't fit. For those of us who have, the buttstock was sticking way out of the bag. In an attempt to rectify these types of awkward moments, we're inviting everyone to partake in our latest Freesh.
This newest Freesh allows a nearly universal mod to fit your long gun in tight places, assuming it's of the AR15 variety. 
This month, we are giving away the Sylvan Arms collapsible folding stock adapter. This hardware will please all the ladies, no matter their birth assignment. With the push of a button, this little device will rotate and fold allowing you to fit the full buttstock in a tight bag. All your buddies at the range will be thrilled to watch you work this hardware before you bag it up!
——-
The Sylvan Arms Folding Stock Adapter allows you to fold your stock and significantly reduce the length of your rifle for easy stow and travel.
Specifically designed for gas piston and direct impingement systems .223 / 5.56 to .308 systems, it has standard 1-3/16" x 16 thread and does not require any additional parts to be used with standard Bolt Carrier Groups.
It is CNC-machined in the USA from 7075 Billet Aluminum, making it uniquely lightweight and corrosion-resistant. This assembly weighs only 6.0 ounces. No special tools required; only a standard armorer's wrench. The product does not need to be disassembled in order to install it onto your rifle/pistol.
Simply screw on, fold and carry!